Shop
Customer ordering page for Sprinter Van tire carriers.
Owl Sprinter Van Tire Carrier
Owl Sprinter Van Tire Carrier
The NEW Owl tire carrier for Sprinters bolts to the hinges and installs in minutes without drilling. Used by some of the industry's top outfitters, this carrier is rock solid. We meticulously engineered multiple articulation points to allow normal use of the door so there are no latches or bulky bumpers to install (and kill your departure angle!). The Owl carrier attaches to the hinges and replaces the magnetic catch on the door. Installs in just a few minutes. Patent Pending. For mounting on driver's door only, for passenger's door, order high mount tire carrier so the door latch is accessible.
Fits Sprinters 2006-2018 (Including REVEL)
Stock or aftermarket wheels

Works with 2500 or 3500 Vans. Please specify when ordering.

Lifetime Warranty for original owner

Fits tire sizes up to 35"

Steel with dual layer powder-coat for years of protection

Colors available (+$200 - NOTE: We cannot color match, this is a selection of available powder coat colors from our supplier)

Includes Wheel Security lock

Lightweight rack (only about 20 lbs). Shipping weight 30 lbs.

Includes three "dome" (stock) style lug bolts. "Cone" style lug bolts sold separately

*Not compatible for vans without magnetic catch*

*Custom colors not returnable*
Product Detail
Owl Vs. Bumper Mounted Tire Carrier - The majority of tire carriers on the market today are bumper mounted systems. These systems are complex and have a number of drawbacks compared to our simple bolt-on system.
Simplicity and Weight - Our rack is just over 20lbs. By eliminating a massive bumper, you eliminate a lot of bulk and weight.
Price - While we are not a budget product, the cost of just a tire carrier or just a box carrier is always going to be substantially less then the cost of a bumper AND a tire/box combo.
The Owl Tire Carrier is the first structurally mounted carrier to open with the door. Many long hours of engineering went into making our carriers dead simple to use. Our key innovation was the use of a double articulating sway link on the door (where the magnetic catch used to be). This link allows the carrier to open with the door while also moving semi-independently, thus you don't have to unlatch the carrier to open the door! In the end, you don't have to understand it to love it
The last thing you want to do is limit the abilities of your 4x4 by adding a huge bumper. Owl Carriers maintain the factory departure angle while almost all bumper mounts will decrease it substantially. When a bumper hangs low off the back of the vehicle it limits the grade a 4x4 can go up or down.
We use huge 2" mandrel bent steel tubing to achieve lightweight and strength.
Coming in at just over 20lbs, our carriers are incredibly lightweight while also offering superior durability. Aluminum is great in the right application but for off-road products that face a lot of vibration, steel can be a better choice. Aluminum although light, can catastrophically fail in a high vibration environments.
Owl carrier open with the door, it's that simple. With bumper mounted carriers, first you unlatch the carrier, then swing the carrier out of the way, then lock the carrier open, then finally you open the door. Trust us, it becomes a pain.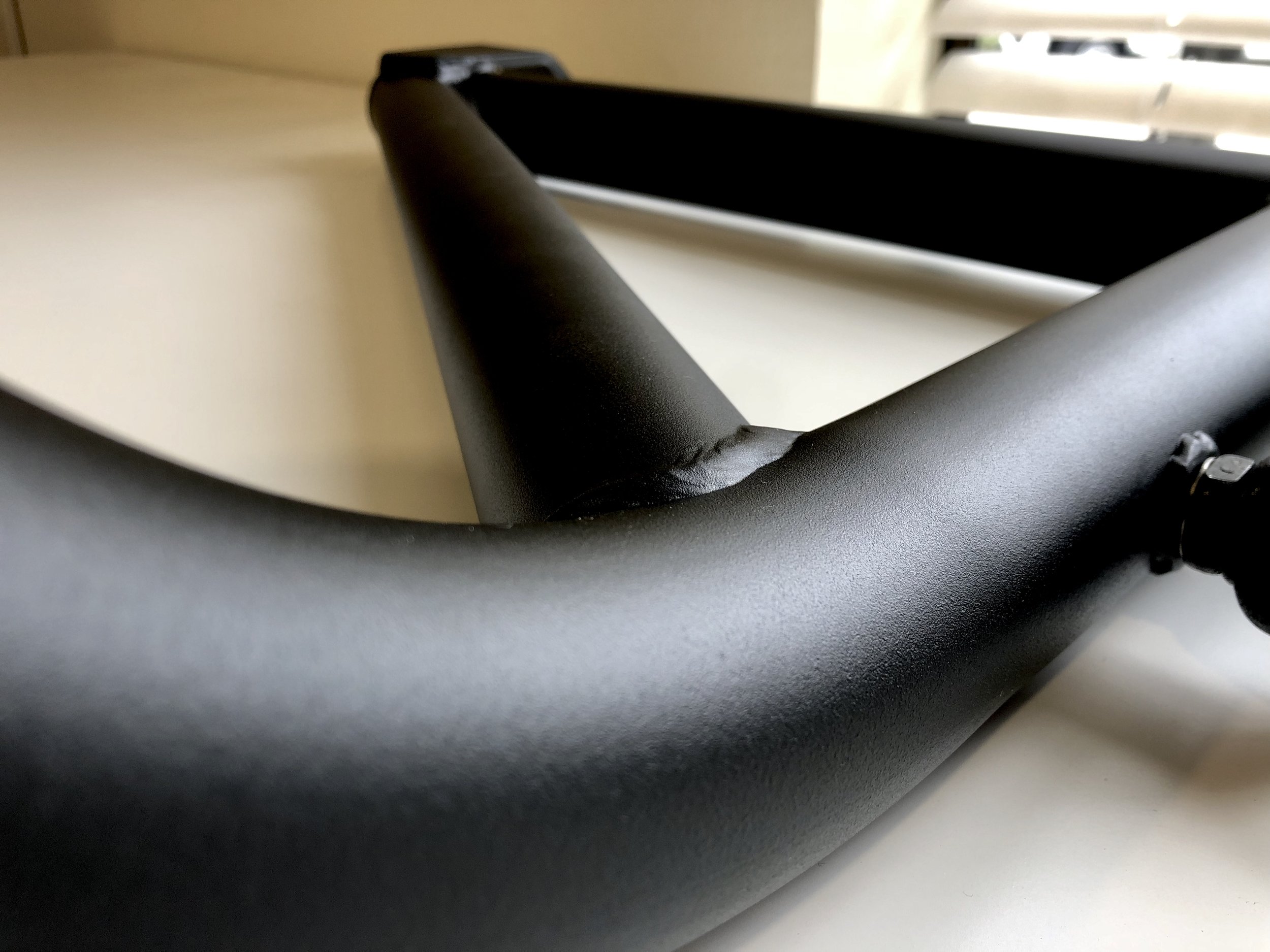 We bead-blast every unit then add a layer of rust resistant self-healing primer. Next comes a thick layer of ultra-rugged textured black powder coat.
What does all this mean? Unlike single stage jobs, our coatings hold up to abuse. Get through the top layer and you're still protected by the primer. Get through the primer and it is self-healing. It actually closes small scratches on its own so you're always protected!